/

Rob Gronkowski Was Super Satisfied With His New Patriots Contract
Rob Gronkowski Was Super Satisfied With His New Patriots Contract
Wednesday, September 05, 2018 4:22 PM America
It took a bit longer than most expected, but Rob Gronkowski finally finalized his reworked contract last Thursday.
Speaking with reporters for the first time since his new deal was announced, Gronkowski said Tuesday he was glad the sides were able to reach an agreement before the start of the regular season. "It's definitely a relief to have that all out of the way," the New England Patriots tight end said. "That was last week, and now that's in the past, which is good. I can put my main focus on the Houston Texans now." The restructure will allow Gronkowski to earn an additional $4.3 million this season if he hits various production and play time benchmarks, boosting the max value of his contract to just north of $13 million.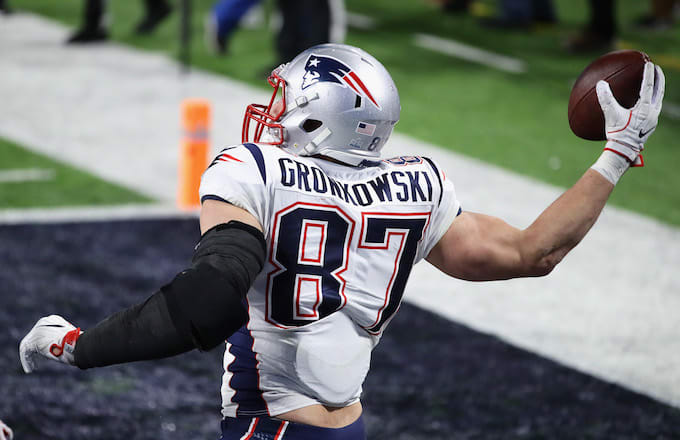 Rob Gronkowski was asked why he didn't hold out like other players."No, I'm super satisfied with my situation," Gronk told reporters during a press conference at Gillette Stadium on Tuesday. "If I wasn't, I would try to pull a move like they did. It works out. You get rewarded for holding out, but I'm not frustrated at all or anything. I'm super satisfied. I'm just ready to go, ready to play. That's my main focus."
When Gronkowski announced he would not be retiring, he seemed to be waiting for a raise. "Didn't weigh on me at all," Gronkowski said. "Everything's always in the works. Nothing's going to just happen in a day with something like that. It's in the past now. It happened last week. It's go time."
Gronkowski, who earned first-team All-Pro honors for the fourth time last season and is regarded as one of the NFL's top offensive weapons, said seeing fellow stars like Aaron Donald and Julio Jones sign richer contracts hasn't left him frustrated with his own situation. If it had, Gronkowski said, he would have considered holding out for a better deal, like Donald did in Los Angeles and Jones threatened to do in Atlanta.