/

Shaq talks about partying with Rob Gronkowski
Shaq talks about partying with Rob Gronkowski
Saturday, June 30, 2018 11:48 AM America
Recently on Jimmy Fallon, Shaquille O'Neal talked about his wild night partying with
New England Patriots
tight end, Rob Gronkowski.
There are a lot of New England Patriots fans who'd like to forever forget about the span of time between Super Bowl LII and minicamp when Rob Gronkowski's future with the team was up in the air — both figuratively and literally.
Video emerged during the offseason of Gronk party-dancing in Miami with Shaquille O'Neal and hoisting himself up on the shoulders of the monstrous 7'1? basketball Hall of Famer. Whether you were entertained or mortified, it was undoubtedly a sight to behold. In recalling the 2:00am to 8:00am "Shaq's Fun House" rager, Shaq told Fallon that he "would've had fun just looking at crazy Gronk."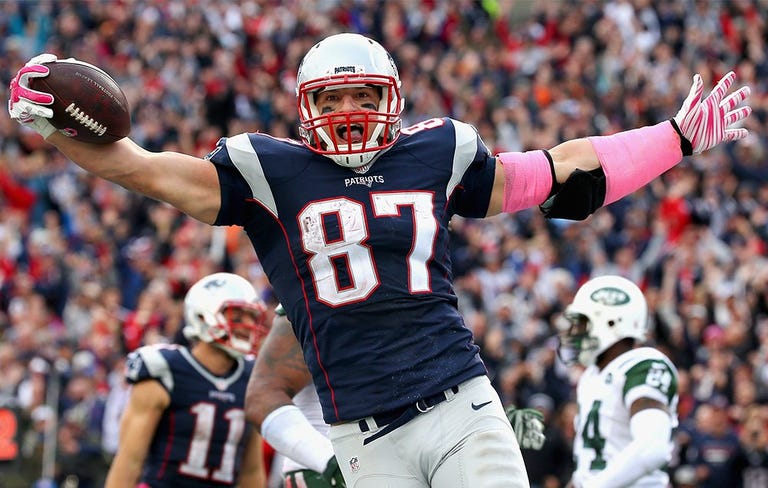 "He's the craziest white guy I've ever seen in my life," O'Neal said in an appearance on the Tonight Show with Jimmy Fallon. "You know what's crazy? I'm watching him, he was drinking water. I'm like, 'How do you act like that just by drinking water?'"
It's incredible to think that anyone can come close to matching Shaq's outsized personality, but that's just how Gronk is wired. He's every bit as kooky and crazy as Shaq, to the point where even Shaq himself has to give him his props.
While Gronkowski might have a blast off the field, he is certainly all business between the white lines. After a great 2017 season, Gronkowski will be hoping to have another 1,000-yard season in 2018. Even though he likes to have fun, there is no better tight end in the NFL than Gronkowski.